CHASSIS ALIGNMENT
When you're in a collision, it's highly likely that your chassis will get bent out of shape. The chassis is the frame that all the other panels are attached to, so if it is warped, it makes driving incredibly dangerous, if it's possible to drive at all.
Here at Allied Collision Specialists we are equipped with state-of-the-art chassis aligners from Car-O-Liner to make sure that your car is returned to factory specifications, to within the millimetre.
If you need chassis alignment, contact us today!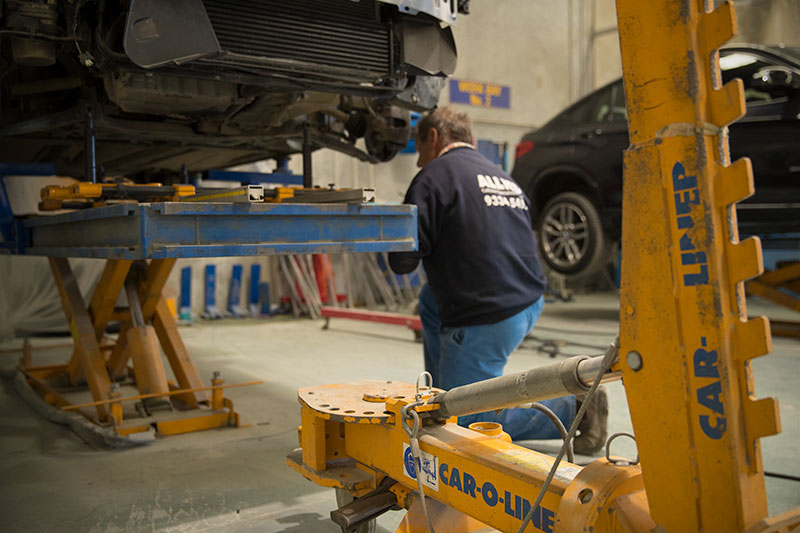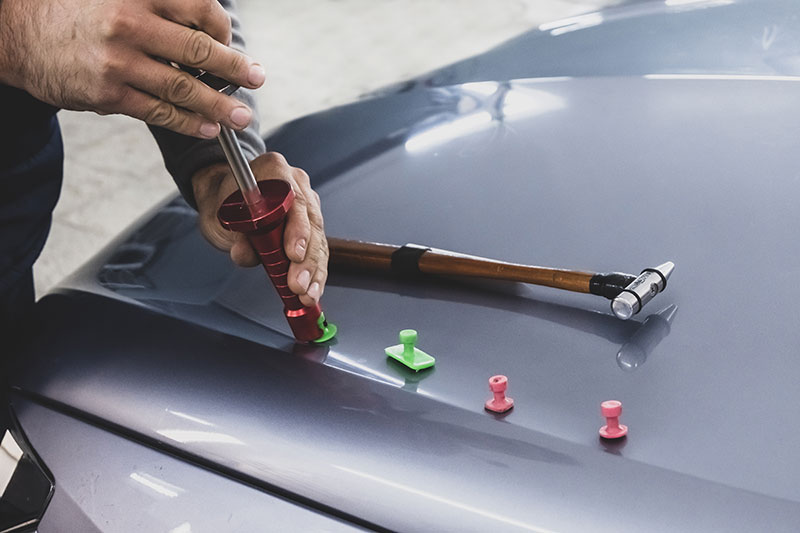 MOBILE PAINTLESS DENT REPAIR
Sometimes, such as when encountering stray shopping trolleys or hail, your car can suffer a dent that deforms the metal without damaging the paint. Normally, these repairs would still require sanding before they could be repaired, requiring re-painting which substantially adds to the overall cost.
Highly experienced panel beaters can actually repair the dent without damaging the paint layer, using specialist precision tools to smooth out the damage without breaking the paint layer. Because of this, paintless dent repair is often faster than regular dent repair, and we can actually perfom it on-site if need be.
If you have a dent where the paint isn't scratched, get in touch today!
PANEL REPAIR
No matter how carefully you drive, you are eventually going to end up with a couple of dings. Whether it's from stray shopping trolleys, someone else being careless, or hail damage, these little dents and dings will make your car look substantially older than it actually is.
Our veteran team have all of the skills and specialist equipment neccessary to repair every kind of dent, from the standard panel beating and filling, to fibreglass repairs and plastic welding for bumpers or cars made of more exotic materials.
Whether it's a large smash or a small dent, here at Allied Collision Specialists we can guarantee we can fix it, so talk to us today!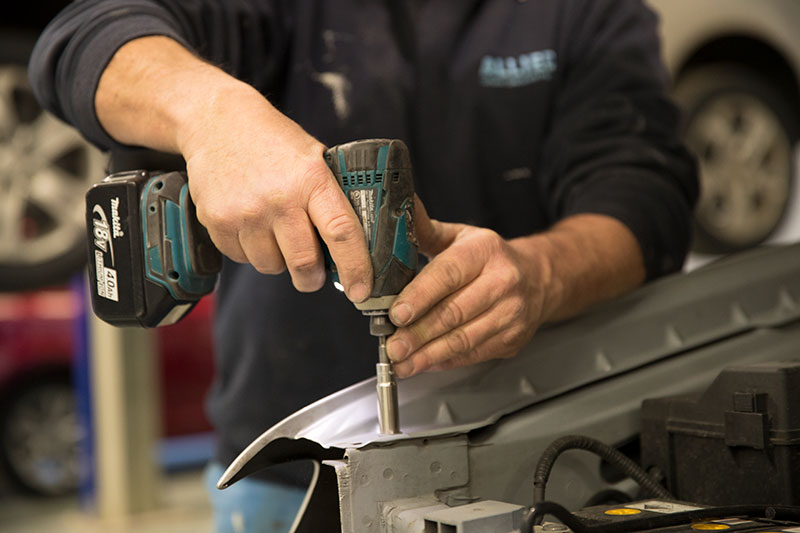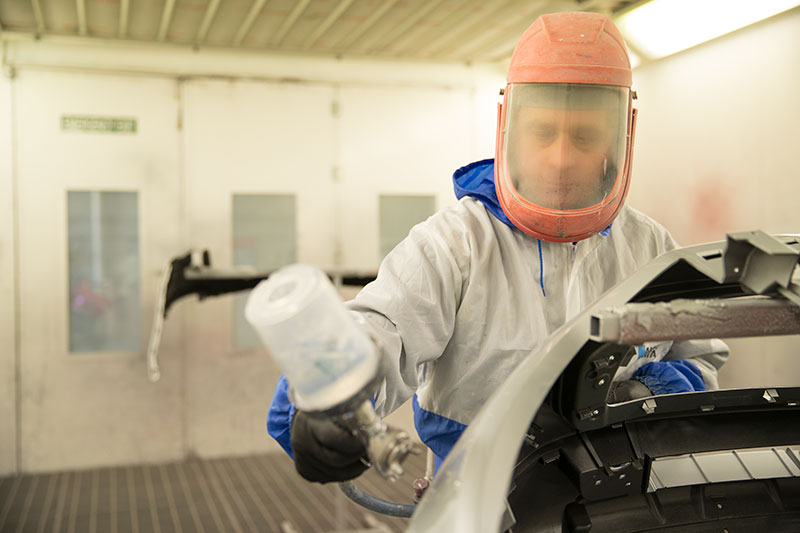 SPRAY PAINTING
Whether it's a full paint job or just touching up a scratch, Here at Allied Collision Specialists we are equipped with a wide selection of PPG paints and a fully equipped and sealed paint room to make sure we provide a quality paint job.
Once the paint is applied we place the vehicle in our lowbake oven, ensuring the paint dries more quickly and evenly. Once the paint has dried, we buff and polish the car so it comes out looking brand new.
Whether you need some scratches covered up or you think it's time for a new colour, get in touch today!
MECHANICAL REPAIRS
With our extensive experience dealing with all manner of crash repairs, we can also provide a variety of mechanical repairs, including:
Suspension and steering repair and replacement
Clutch and transmission repairs
Radiator and cooling systems repair and replacement
Exhaust system repairs
If you need any mechanical repairs, talk to us today!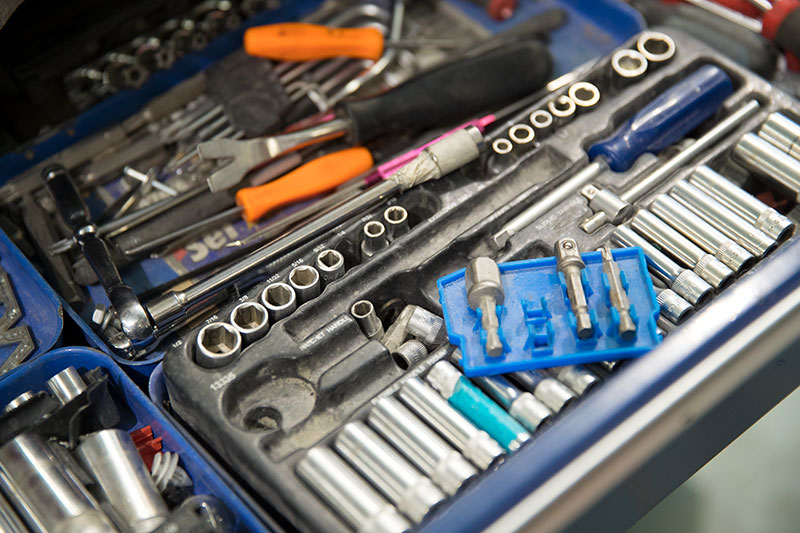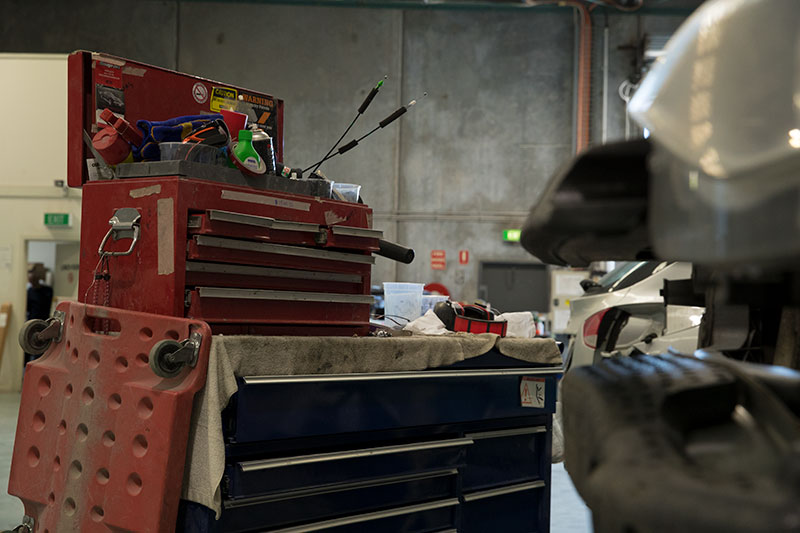 AUTO ELECTRICAL REPAIRS
With the increasing complexity of modern vehicles, the auto electrical systems in cars are becoming more and more sophisticated. If these are damaged in a crash, we have skilled auto electricians who can provide the following repairs:
Body electrics repair
SRS electrics repaired
Central locking systems repaired
ABS, traction and stability control repaired
If you need any auto-electrical repairs, contact us today!
OTHER SERVICES
We offer a wide range of other services here at Allied Collision Specialists; including, but not limited to:
Tyres for all makes and models upon request
Tyre fitting and balancing
Detailing
Upholstery and interior repair and replacement
Tow bar repair and replacement
4WD systems repair and replacement
Windscreen repair and replacement
Local area drop offs and pick ups on request
Loan car bookings available
If you need something that you haven't seen listed above, don't hesitate to get in touch today!